MT4 Tools

Trade Manager

EA Monitor

Scripts

NewsHound

Documents

Bracket Manual
Magic Numbers
Download Guide
MT4 Errors
MT4 Fibo Setup
MT4 Email Setup
Mobile Email

Other Stuff

MT4 Mobile App
Rebellion Plus
Compound Calc
Cool Tools
Virtual Server
Refunds
Programming


Notice
Forex Tool Shed is going out of business. All products are now available free of charge. Prior to now, the products had an expiration date and had to be renewed (for free) semi-annually. The expiration feature has been removed so that the products are now good forever. When you are ready to download, just click on the Downloads link on the left side of the page--the password is no longer required. Also, after January 31, 2017, support may no longer be available.
Forex Tool Shed offers tools for the MetaTrader 4 trading platform. These tools consist of Expert Advisors (EAs), Indicators and Scripts, which will manage and monitor your trades, make your trading experience less stressfull, and allow you to spend less time in front of your charts.

Our premier product is TM, the Trade Manager, an MT4 Expert Advisor designed to manage your Forex trades for you. TM can set your initial Stop Loss and move the stop from 1 to 5 times to specified targets as your trade moves along in profit. It will also Take Profit at 1 to 5 specified targets, closing a specified lot (or percentage) size at each target. Additionally, TM offers two pip by pip Trailing Stops and a fractal trailing stop. TM will also alert you via popup, sound, email, or cell phone when a stop is moved, when profit is taken, when the trade is stopped out, or when a specified profit level has been achieved.

With this completely customizable Expert Advisor, you can take a trade and walk away from your computer, knowing that the Trade Manager will manage all aspects of the trade for you.
For more info about the Trade Manager or to place an order, click on the Trade Manager link under MT4 Tools on the left.

Do you trade the news? Would you like to?:
NewsHound is an MT4 Expert Advisor that allows you to trade the spike in price caused by news announcements. You provide a few parameters to define when to enter a trade and how to manage it and NewsHound does everything else for you, automatically. You can set the EA in place minutes or hours prior to the trade and then, just seconds before the news announcement, NewsHound will straddle the current price with pending Buy and/or Sell orders. When the price spike activates the pending order, then NewsHound manages the stops and profit taking for the trade, all automatically.
Because the price moves so quickly on an announcement, the NewsHound can manage the trade much more quickly and more efficiently than you could do so manually.
For more info about the NewsHound or to place an order, click on the NewsHound link under MT4 Tools on the left .

The EA Monitor expert advisor was designed for monitoring the status of trades generated by robots--status information such as number of wins, losses and pips for the day, week and month, historical drawdown stats, and progress and info pertaining to current trades. But it can be used to monitor any types of trades, not just auto-trades, including trades with and/or without Magic Numbers. It can be set to monitor a single currency pair or up to nine pairs. It also does some minor trade management, like moving the stop to Break-Even when a trade gets to a certain profit level, or stopping a trade when its drawdown gets to a certain pip level or percent of account level or taking profit when a specified profit level is achieved. It also provides popup, sound, and email alerts when profits or drawdown achieves a specified level.
For more info about the EA Monitor or to place an order, click on the EA Monitor link under MT4 Tools on the left .

Need to use a Magic Number on your trades?
The $OpenMagic and $Bracket scripts allow you to create orders with a magic number assigned to them. Click on the Magic Numbers link under Documents on the left for a description of Magic Numbers.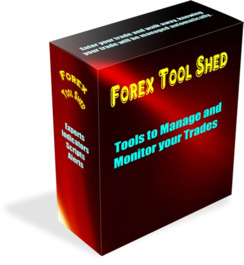 Trading getting you down?


Let Trade Manager take the stress out of your trading